It's cliche, but we have to ask. Is this the new normal?
In this week's global freight updates, we've got hidden post-Brexit costs, shippers on the prowl for boxes, the current state of ocean freight – in pictures, CMA CGM branching out, and plunging air cargo rates.
According to The Loadstar, EU consumers are starting to become "more reluctant to order UK brands due to longer transit times and additional costs linked to duty and VAT." Despite attempts to avoid disruptions, the uncertainty surrounding these costs and the complexity of the reverse logistics process are causing many problems for the country's apparel brands.
"Every picture tells a story, don't it." – Rod Stewart. The song lyric fits when it comes to ocean shipping, too. Instead of repeating the same old story – in words – we'll do it in pictures. As pretty as big, colorful pictures of ships and containers can be, this is a situation that is not easing. At last report, there were almost 90 container ships anchored outside of U.S. ports waiting for unloading.
As for the current container crunch, some shippers have had enough of the elevated freight rates and overwhelming bottlenecks and are now looking into outright buying the containers themselves. With FEUs up 500% in some areas, many are left questioning whether or not demand will remain strong if these costs are put on consumers.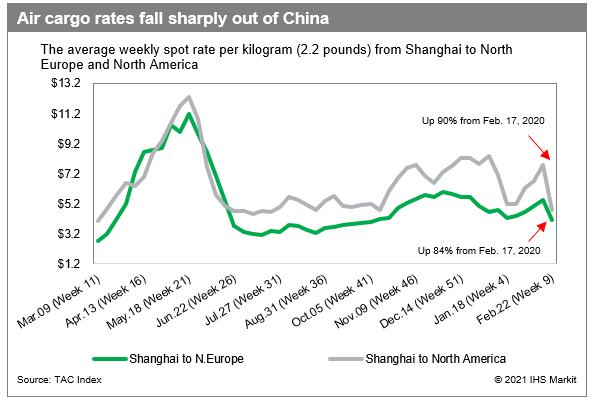 Next up on the list is CMA CGM's new in-house cargo airline. The carrier's first flight is officially scheduled to depart from its home base at Liege Airpot on March 8, giving the industry giant and its subsidiaries yet another leg up in the game. While companies like CMA CGM are working on ramping up capacity, air cargo rates from Shanghai to North America are down 62 percent from last week, according to the TAC Index.
This drop doesn't exactly paint the full picture, however, given that rates are still up 90 percent on the trans-Pacific in comparison to this same time last year. And factors like limited capacity will likely keep them that way for the rest of the year at the very least.
Compliments of Jaguar Freight – a member of the EACCNY.