In the first Weekly Roar of what's going to be a great new year:
The EU continues to wheel-and-deal, wariness remains for some persistent global supply chain roadblocks, blockchain continues its uphill fight for relevancy, why rail is cool again, and the obligatory international doom and gloom (with a little positive thrown in.)
It's 2021, so let's go!
With Brexit checked off the to-do list (sort of), the European Union has struck a trade deal with China. There is a lot of opposition to it, however, both internally within Europe and from the U.S. Notable is that China edged out the U.S. as the EU's largest trading partner with $590B in two-way trade in 2020 based on the latest figures.
The pandemic is easily the top news story impacting supply chains in 2020, and will continue to be in 2021. But, other issues and opportunities exist as well. A tough global economic outlook, as well as political unrest in many regions mean this year will be anything but easy. But, new technologies, such as 5G, seem poised to start fulfilling their promise.
Speaking of technology and potential… for the first time in a while, there's been mention of blockchain in the news. It's not good news, unfortunately, especially for those holding out hope a blockchain-related technology would find its place in the supply chain. A long-standing concern for many tradeable tokens has been if the U.S. Securities and Exchange Commission would flex its muscle, and it's recently done so with one of the more well-known shipping related offerings. It appears that for the time being, blockchain will continue facing the criticism of being a solution in search of a problem – at least as it relates to shipping.
The underappreciated workhorses of global supply chains are the railroads. And in the U.S., rail is seeing a resurgence, thanks in large part to the growth of e-commerce.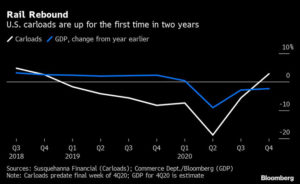 And finally, as much as we want to just make it go away, the rate, congestion, and capacity challenges remain around much of the world. We've got JOC's 2021 outlook for the air cargo marketplace with a little bit of positive news from some California ports.
Compliments of Jaguar Freight – a member of the EACCNY.