In this week's Roar, we have the latest on the Port of Vancouver's building ship queue, prolonged LA-LB congestion, 2022 labor talks, the FTC's search for supply chain data, and Brexit's impact on Ireland-Europe services. 
You know things are bad for a port when it's mentioned ahead of LA/ Long Beach in a story about congestion. The backup is relative, of course, but the Pacific Northwest ports have had their fair share of nature-caused challenges this year. Following a recent string of severe weather disruptions, CN is struggling to get a key segment of its rail network up and running again. According to FreightWaves, "the rail briefly reopened its Vancouver-Kamloops line over the weekend but quickly shut it down as more heavy rain hit southern British Columbia."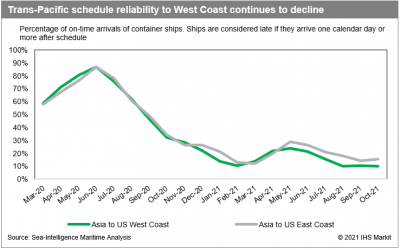 And despite signs of easing congestion at the largest port complex in the U.S., blanked sailings in the trans-Pacific paired with the impending Lunar New Year mean that the ports of Los Angeles and Long Beach are not quite in the clear yet.
The next cloud on the horizon could be the labor talks we can expect to take place in 2022. According to The Wall Street Journal, "the private companies that operate port facilities from Washington state to Southern California are due to begin negotiations next year on a multiyear agreement with the union representing 22,400 dockworkers to replace the contract that expires in July 2022."
As the industry continues to deal with all its challenges, the FTC is working to analyze nine major companies' supply chain data in an effort to better understand today's shipping disruptions, based on a recent Supply Chain Dive report.
Meanwhile, new data from the Irish Maritime Development Office revealed that "Brexit has proved to be a boon for shipping lines operating direct services between the Republic of Ireland (ROI) and continental Europe." 
Compliments of Jaguar Freight – a member of the EACCNY.