After two months of relatively low liquidation volume, November brought a return to average levels. Liquidation volume came in at $1.2 billion in November, up from $960 million in October and $870 million in September. Volume registered on par with the 12-month moving average of $1.18 billion. Further, the majority of loans liquidated fell into the greater than 2% loss severity category.
November loss severity landed at 48.10%, up considerably from October's 38.58% and above the 12-month moving average of 44.34%. The number of loans liquidated in November was 105, resulting in $579.64 million in losses. These liquidations translated to an average disposed balance of $11.48 million, in line with the 12-month average of $11.43 million.
Since January 2010, servicers have been liquidating at an average rate of $1.17 billion per month.
Below are the overall statistics for loans liquidated in November. The first table includes only US fixed-rate conduit loans. (If a loan somehow managed to be liquidated with a profit or at par, we excluded the loan. If the loan suffered a loss of $1 or more, it is included in the numbers below.)

If one takes out the loans with losses of less than 2%, the story looks a little different. As we've noted in the past, we suspect that in many cases, the small loss loans are actually refinancings that have taken place where the losses reflect small, unpaid special servicer fees or other costs. On this basis–after taking out the "small loss" loans–$1.07 billion in such loans were liquidated in November, compared to an average of $919.77 million over the last 47 months and $965.81 million over the last 12 months.
The average loss severity on this basis is 53.97% for November–up from October's 42.42%. November's reading fell in line with the average monthly loss severity omitting losses of less than 2% of 54.57% over the last 47 months and 54.07% over the last 12-months

Next are the loss severity numbers by vintage. The first table includes all liquidations, while the second excludes loans with losses of less than 2%.
Loan Liquidations since January 2010 by Vintage – US Fixed Rate Conduit Loans – All Losses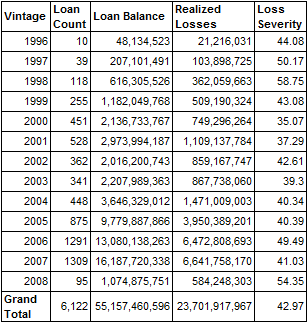 Loan Liquidations Since January 2010 By Vintage – U.S. Fixed Rate Conduit Loans – Losses > 2%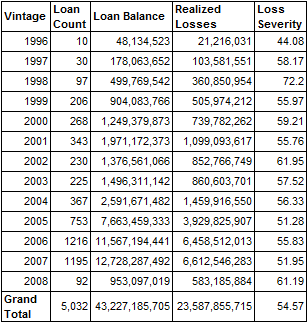 Look for November's loss numbers broken out by property type and loan size in the next few days.
MORE INFORMATION: www.trepp.com/treppwire
©1997-2013 Trepp, LLC. All Rights Reserved.