There has been a lot of talk lately about the pace of defeasances and the fact that many borrowers are increasingly willing to pay defeasance charges. Whether this is to lock in rates ahead of a potential Fed rate hike or because property values have rebounded so much that a would-be seller can afford to pay the charge, there is no denying that defeasances are on the rise.
As the table below indicates, already over $3 billion in loans have been defeased in August as of Friday. That amount is around what we would normally see over three months earlier this year. Three loans with balances above $200 million have been defeased in August, including the $475 million 520 Madison Avenue note (20.7% of LBUBS 2006-C7). Eleven loans have been taken out with balances of above $50 million.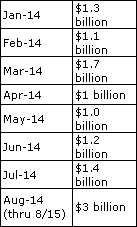 As Fitch pointed out a few weeks ago, the defeasances are not just taking place with legacy loans. Increasingly, it is CMBS 2.0 loans that are getting swapped out. Take a look at WFBRS 2011-C2. That deal saw three loans totaling $133.7 million become defeased this month. The WFBRS deal now has over 12% of its collateral represented by US government securities.
Separately, there has also been an uptick in prepayments in the floating rate space. The JPMCC 2014-FL4 deal saw 27% of its collateral pay off this month when the $205 million Blackstone Industrial Portfolio paid off in August–only five months after being securitized. Similarly, the ACR 2013-FL1 deal saw two loans–almost 18% of its collateral–payoff with a penalty. The deal was issued last November.
New Jersey Office Loan Sees Appraised Value Drop More Than 80%
The $43.2 million AT&T Consumer Services Headquarters loan was assessed a big appraisal reduction in August after its value was reduced by more than 80%. In November of last year we noted that the Morris Township, New Jersey property would be losing its sole tenant. The departure occurred this month, as tenant AT&T is consolidating its workers into another property. The loan represents 5.1% of the remaining collateral behind CSFB 2004-C5.
The 387,000 square-foot office building was built in 1979 and renovated in 2004. A 2004 appraisal valued the building at $77 million, but this month that was dropped to $13.5 million. The loan was assessed an appraised reduction of $32.9 million in August as well.
LDP9 Sees Resolution of Eight Loans, $84 Million in Losses
The JPMCC 2006-LDP9 deal was hit with almost $84 million in losses this month as eight separate loans were closed out with losses. The resolutions canceled out the F and F-S classes of bonds entirely, as well as most of the E and E-S tranches. As a result, the delinquency rate on the deal fell by more than three points. With delinquencies as of August now totaling 7.6%, there are still plenty of assets yet to be resolved.
The losses in August came in about $2 million less than predicted by the appraisal reduction amounts as of July. The biggest loss came to the $37.2 million Metropark Corporate Campus II, which had a $24.6 million loss.
As a side note, servicer data from August removed the appraisal reduction for the largest loan in the deal, the $375 million Belnord loan (10.8% of LDP). It had been $133.4 million in July.
Compliments of Trepp, LLC – an EACCNY Member | www.trepp.com/treppwire | ©1997-2014 Trepp, LLC. All Rights Reserved.