The ING Foundation is awarding college scholarships to teams of young girls who participated in the ING-Girls Inc. Investment Challenge, a program that provides practical, hands-on investing experience to girls at Girls Inc. affiliates around the country.
Teams of girls in the first cycle of the challenge from New York City, Denver, and Los Angeles and Alameda counties in California each spent the past three years building and managing a virtual $50,000 diversified, real-time portfolio as part of an integrated investment- and economic-literacy curriculum. Now, because of their successful money-management skills, the gains they realized from their investment portfolios translate into real dollars for their continued education.
"When we initially launched the ING-Girls Inc. Investment Challenge, our goal was to introduce girls to the basics of saving, investing and financial planning to empower a new generation of smart investors," said Rhonda Mims, president of the ING Foundation and senior vice president of ING U.S.'s Office of Corporate Responsibility. "At the end of the challenge, each team realized at least a 25% return on their portfolios. Given the market volatility over the past years, I think the girls have acquired an understanding of capital markets that they will carry on with them through adulthood."
The latest study commissioned by the ING Retirement Research Institute underscores the need to engage girls early on with financial literacy. The study, Retirement Revealed, indicates that women on average are significantly less prepared for retirement than men. "The ING-Girls Inc. Investment Challenge serves as a solution for one of the biggest issues facing our youth today — financial literacy," said Judy Vredenburgh, president and CEO, Girls Inc. "Exposing the girls to the fundamentals of investing and connections with dedicated mentors, seeing them mature as investors and then reaping the rewards of their commitment to the challenge gives the girls the confidence and skills they need to take charge of their own finances and futures built on higher education and independence."
The ING-Girls Inc. Investment Challenge has expanded to Holyoke, Mass., Atlanta, Houston and Washington, D.C., with plans to integrate the challenge more widely across Girls Inc. affiliates. "I enjoyed learning about how to make the right investment decisions because it will be very useful in the future when I am investing my own money," said Elizabeth, a participant from the New York challenge.
The ING Foundation will award two-thirds of the investment gains in the portfolio to the girls with one-third going to the local Girls Inc. affiliate to support local programming. The original $50,000 principal is then re-assigned to the incoming team. The ING Foundation will join the local Girls Inc. affiliates for celebratory events this summer to recognize girls who are vested and eligible to receive gains from the team's investments.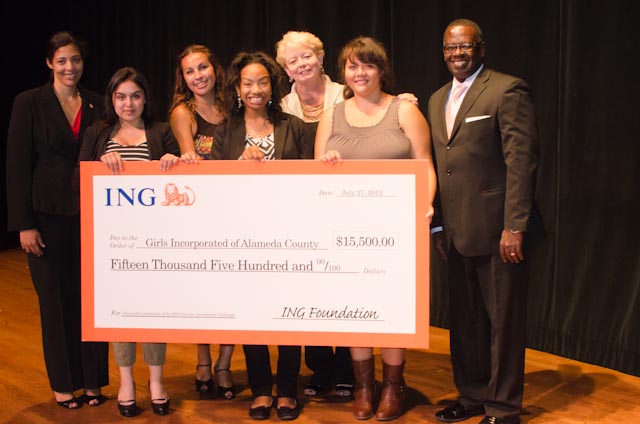 Click here to learn more about how ING is empowering young women across the US.