With short-term freight snags, limitations against EU regulators, U.K. lockdowns, an avg. of 30 vessels at anchor waiting at the Ports of LA/ Long Beach all last week, increasing supply chain debt, decreasing blanked sailings, and a tight air cargo market 2021 is already off to a rocky start for supply chain all over the globe.
It's been over a week since public officials finalized the Brexit trade deal otherwise known as the European Union-United Kingdom Trade and Cooperation Agreement. Because of the last-minute nature of the deal, many European manufacturers (especially those in the automotive sector) were given very little notice to adapt their processes to the deal's lengthier documentation requirements. As border delays continue to get out of hand, the U.K. remains the only country to offer a 6-month grace period. 
Unfortunately, the European Commission is pretty limited when it comes to what it can do right now. These limitations are also affecting the organization's ability to respond to the complaints shippers are lodging against carriers who are violating their shipping contracts. And demand for goods like exercise equipment shows no sign of slowing amid Europe's recent coronavirus lockdowns and the unprecedented lack of blanked sailings for the Chinese New Year, which is only pushing up shipping rates.
Speaking of high rates, epic delays are continuing for the Ports of LA/Long Beach. And the premiums paid by importers in the Asia/ U.S. trades are unprecedented. From JOC.com:
Spot rates in Asia-North America trade are about $4,000 per FEU to the West Coast and $5,000 per FEU to the East Coast, although carriers and freight forwarders say importers are paying as much as $6,000 per FEU to the West Coast and $8,000 per FEU to the East Coast when the cost of premium equipment and space guarantees are added to the base freight rate.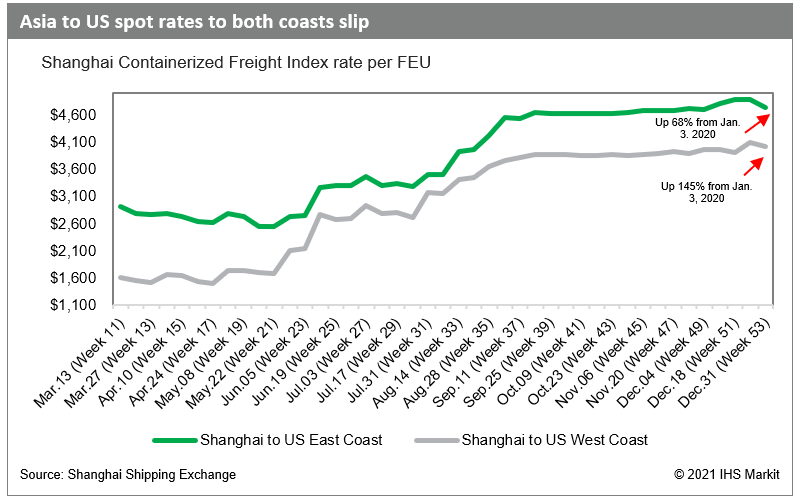 Image courtesy of Jaguar Freight.
Shipping demand and rates aren't the only things in the industry that are spiking, however. According to Bloomberg, bad supply chain loans equating to 25.5 billion euros, or $31.3 billion, are on the rise due to the European Banking Authority cracking down on lenders in the region. Since larger companies typically pay their bills late, the new standard stating that receivables booked on a firm's balance sheet will be considered past due after 30 days poses a pretty big problem for many businesses.
On a more positive note, what has been a pretty tight market for air freight seems to be finally improving as various airline carriers continue to add more capacity to their fleets.
Compliments of Jaguar Freight – a member of the EACCNY.