We want to wish all of our readers a healthy, happy, and prosperous New Year.
We will write more about this over the next week or so, but most CMBS players will certainly be hoping for different results in 2016. Between disappointing new issue totals and significant spread widening, the market had more troughs than peaks. For the record, the first conduit deal of 2015 saw the 10-year AAA price at S+95 and the BBB- clear at S+380. The year's final conduit issue saw the 10-year AAA price at S+140 and the BBB- settle at S+615. (The last "non-split" BBB- cleared at S+525.) With one trading day left in 2015, GSMS 2007-GG10 A4 was being quoted at 230 basis points over swaps. That bond clocked in at S+88 at the end of 2014.
Our hope is that 2016 gives everyone more opportunities for high-fives and chest bumps.
Regarding Wednesday's activity, US stocks sagged on the penultimate day of the year. The Dow fell 117 points (0.66%) while the S&P 500 slid 0.72%. The market continued to be tethered to the performance of oil prices and energy stocks. Both of those were off yesterday, and that helped push the US equity indexes lower.
CMBS trading was, once again, imperceptible. CMBX 6 AAA spreads ended one basis point higher at 88, while the CMBX 6 BBB– spread ended two basis points wider at 354.
Credit Stories
December Loss Analysis: Heavy Loss Severities Round off the Year
CMBS loan disposition volume for the last month of the year declined from November's total of $941.9 million, but came in relatively close to the 12-month average for all loans, which is $879.10 million. December liquidation volume totaled $887.7 million across 60 loans. The average size for loans disposed in December was $14.8 million, up from $13.1 million in November. This mark also fell in line with the average loan liquidation amount of $13.7 million reported for the full year.
Including two smaller B-notes comprising just over $9 million, five loans totaling $73.5 million experienced over 100% losses. Backed by 13 office properties from Florida, Maryland, and North Carolina, the largest loan disposed was the $127.8 million DRA-CRT Portfolio I with a 97.91% loss severity. Other noteworthy portfolio loans paid off this month were the $72.8 million DLJ West Coast Hotel Portfolio with an 82.23% loss severity and the $38.2 million St. Louis Flex Office Portfolio with an 89.10% loss. The $39.5 million Fort Henry Mall, collateralized by a mall in Tennessee, suffered the heaviest loss severity at 102. 21%.
The substantial losses incurred by the aforementioned portfolios, among others, significantly spiked loss severity in December. December loss severity clocked in at 60.90%, up 16.84 percentage points from November. Since December finished with the highest monthly loss severity for 2015, the annual average increased to just under 40%. Looking only at losses greater than 2%, volume was $740.28 million with a 72.84% loss severity in December.
Below are the overall statistics for loans liquidated from January 2010 to December 2015. The first table includes only US fixed-rate conduit loans. (If a loan somehow managed to be liquidated with a profit or at par, we excluded the loan. If the loan suffered a loss of $1 or more, it is included in the numbers below.)
Loan Liquidations since January 2010 – US Fixed Rate Conduit Loans – All Loans

The next table only considers disposed loans with losses greater than 2%. When "small loss" loans are excluded from the analysis, $740.28 million across 44 loans was liquidated in December. The average amount of loans liquidated over the last 72 months on this basis was $896.60 million, while the 12-month average is $625.60 million.
As noted above, the average loss severity for loans with losses greater than 2% is 72.84% for December, which is 17.37 percentage points higher than November's tally. The running average for the last 72 months and the last 12 months are 55.29% and 57.60%, respectively.
Loan Liquidations since January 2010 – US Fixed Rate Conduit Loans – Losses > 2%

Next are the loss severity numbers by vintage. The first table includes all liquidations, while the second excludes loans with losses of less than 2%.
Loan Liquidations since January 2010 by Vintage – US Fixed Rate Conduit Loans – All Loans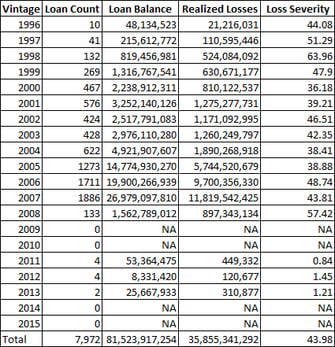 Loan Liquidations since January 2010 by Vintage – US Fixed Rate Conduit Loans – Losses > 2%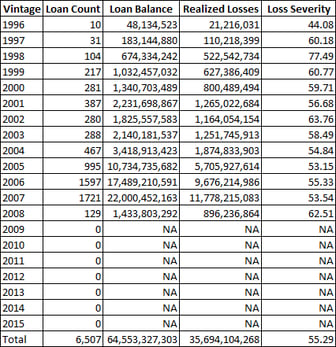 Look for December's loss numbers broken out by property type and loan size in the next few days.
 Compliments of Trepp, LLC – A  member of the EACCNY