In case you missed it, EACCNY Member TREPP, LLC put out a research piece yesterday via email that discussed the dollar volume of loans from the 2005 to 2007 vintages that do not currently have the DSCR, LTV or debt yield needed to secure CMBS refinancing. If you would like to access it, you can click the link to the right.
The dovish comments from the Fed had a lingering beneficial effect on the markets yesterday as US stocks rallied for a second straight day and CMBX spreads tightened significantly. The Dow gained 84 points (0.47%) and the S&P 500 added 0.44%.
CMBX outperformed CMBS cash by a wide margin yesterday as spreads on the indexes narrowed sharply. For CMBX 6/7/8/9, AAA spreads were tighter by two or three basis points but the big move was in the BBB- and BB segments. There spreads tightened by 12 to 27 basis points for the BBB- depending on the series, with the CMBX 9 seeing the biggest move. For the BB's, spreads narrowed by 22 to 34 basis points with the CMBX 9 again leading the way.
CMBS cash spreads also moved tighter but the improvement was modest compared to CMBX. At the top of the stack, last cashflow AAAs were tighter by a basis point or so. New issue BBB- spreads tightened by about five basis points yesterday. About $150 million was out for bid on the day.
March Loss Analysis: Disposition Volume Remains Low As Loss Severity Hits Record High

Loan disposition volume for the month of March continued to hover around the level last seen 12 months ago, dipping below $500 million for the first time since February 2010. Loss severity also peaked at its highest level since Trepp first began tracking this data in 2010. 36 loans totaling $435.9 million were liquidated in March, down from $567.0 million in February and an astounding $2.4 billion in January. Rising from $13.2 million in February, average loan size came in at $12.1 million for this month.
The three largest loans that paid off in March all experienced 100% in losses, two of which were backed by properties in the St. Louis MSA. Comprising 35% of the total liquidation volume, the three loans are the $77.5 million St. Louis Mills, the $51.8 million Ariel Preferred Retail Portfolio, and the $25.1 million Sheraton St. Louis City Center. The Ariel Preferred Retail Portfolio is collateralized by six retail outlets totaling 1.3 million square feet across various states. The largest loan disposed this month is the $77.5 million St. Louis Mills loan, which was backed by a 1.2 million square foot super-regional mall built in 2003.
Due to high losses by the largest loans resolved this month, loss severity climbed to 69.86% from 33.71% in February. March's average loss severity is over eight percentage points higher than the previous record high. Looking only at losses greater than 2%, volume was $402.5 million with a 75.56% loss severity.
Below are the overall statistics for loans liquidated from January 2010 to March 2016. The first table includes only US fixed-rate conduit loans. (If a loan somehow managed to be liquidated with a profit or at par, we excluded the loan. If the loan suffered a loss of $1 or more, it is included in the numbers below.)
Loan Liquidations since January 2010 – US Fixed Rate Conduit Loans – All Loans

The next table only considers disposed loans with losses greater than 2%. When "small loss" loans are excluded from the analysis, $402.6 million across 28 loans were liquidated in March. The average amount of loans liquidated over the last 75 months on this basis was $903.05 million, while the 12-month average is $773.51 million.
As noted above, the average loss severity for loans with losses greater than 2% is 75.56% for March, which is an increase of 36 percentage points from February's tally. The running average for the last 75 months and the last 12 months are 55.64% and 59.07%, respectively.
Loan Liquidations since January 2010 – US Fixed Rate Conduit Loans – Losses > 2%
Next are the loss severity numbers by vintage. The first table includes all liquidations, while the second excludes loans with losses of less than 2%.
Loan Liquidations since January 2010 by Vintage – US Fixed Rate Conduit Loans – All Loans
Loan Liquidations since January 2010 by Vintage – US Fixed Rate Conduit Loans – Losses > 2%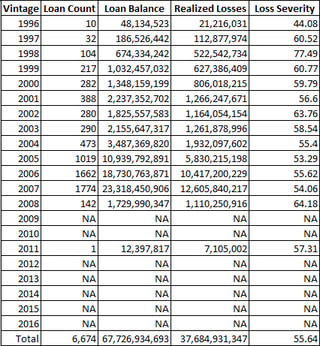 Look for March's loss numbers broken out by property type and loan size in the next few days.
Compliments of Trepp, LLC | ©1997-2016 Trepp, LLC. All Rights Reserved.