By Christina Sevilla, Deputy Assistant U.S. Trade Representative for Small Business
In the United States and in the European Union, small and medium businesses are the backbone of the economy and critical motors of growth and job creation. Small businesses that export grow faster, add jobs faster, and pay higher wages than small companies in the same sector that serve purely domestic markets. Helping more small and medium enterprises do business and find partners across the Atlantic, and unlocking opportunities for more jobs and growth on both sides, is a key objective of the Transatlantic Trade and Investment Partnership (T-TIP).
As President Obama has said, "the trade and investment partnership that we are pursuing between the European Union and the United States is a major opportunity to build on millions of jobs on both sides of the Atlantic already supported by U.S.-E.U. trade. Such an agreement would result in more trade, more jobs and more export opportunities, including for small businesses."   For U.S. small and medium companies, the EU represents a considerable market, with over 92,000 U.S. small businesses across the fifty states exporting there in 2012.
In July, following on the 6th round of T-TIP negotiations in Brussels, I met with small and medium companies in Germany, Austria and Luxembourg already doing business with the United States and expecting that the T-TIP will further reduce costly tariff and non-tariff barriers, creating new opportunities for growth.  Based on expectations of increased customer sales, these European small and medium firms are opening plants and operations in Mississippi, Alabama, and Pennsylvania, creating high-wage jobs for U.S. workers in manufacturing, engineering, and sales.

L to R: Dept. of Commerce's Lori Cooper, Feuer Powertrain CEO Bernd Gulden, USTR's Christina Sevilla
With the assistance of the U.S. Consulate General in Leipzig, Germany, I visited the Feuer Powertrain company in Nordhausen, Germany, which manufactures engine components in five plants.  Due to increasing North American demand and expected increases in sales with the T-TIP, Feuer's CEO Bernd Gulden has made the company's first foreign investment in Tunica, Mississippi, erecting a new plant, in which V8 engine motor parts will be manufactured. Forty employees from the Mississippi and Tennessee region will be hired this year, and in four to five years that number is expected to grow to 300.  Feuer Powertrain finds that a skilled labor force and lower energy costs make the U.S. an attractive place to invest, and expects to train new workers and establish an apprenticeship program with local Mississippi technical colleges and high school graduates. Mr. Gulden said that retaining highly-skilled workers is important to the success of his company, and therefore he intends to set wages significantly higher than the prevailing wage in the Mississippi Delta region.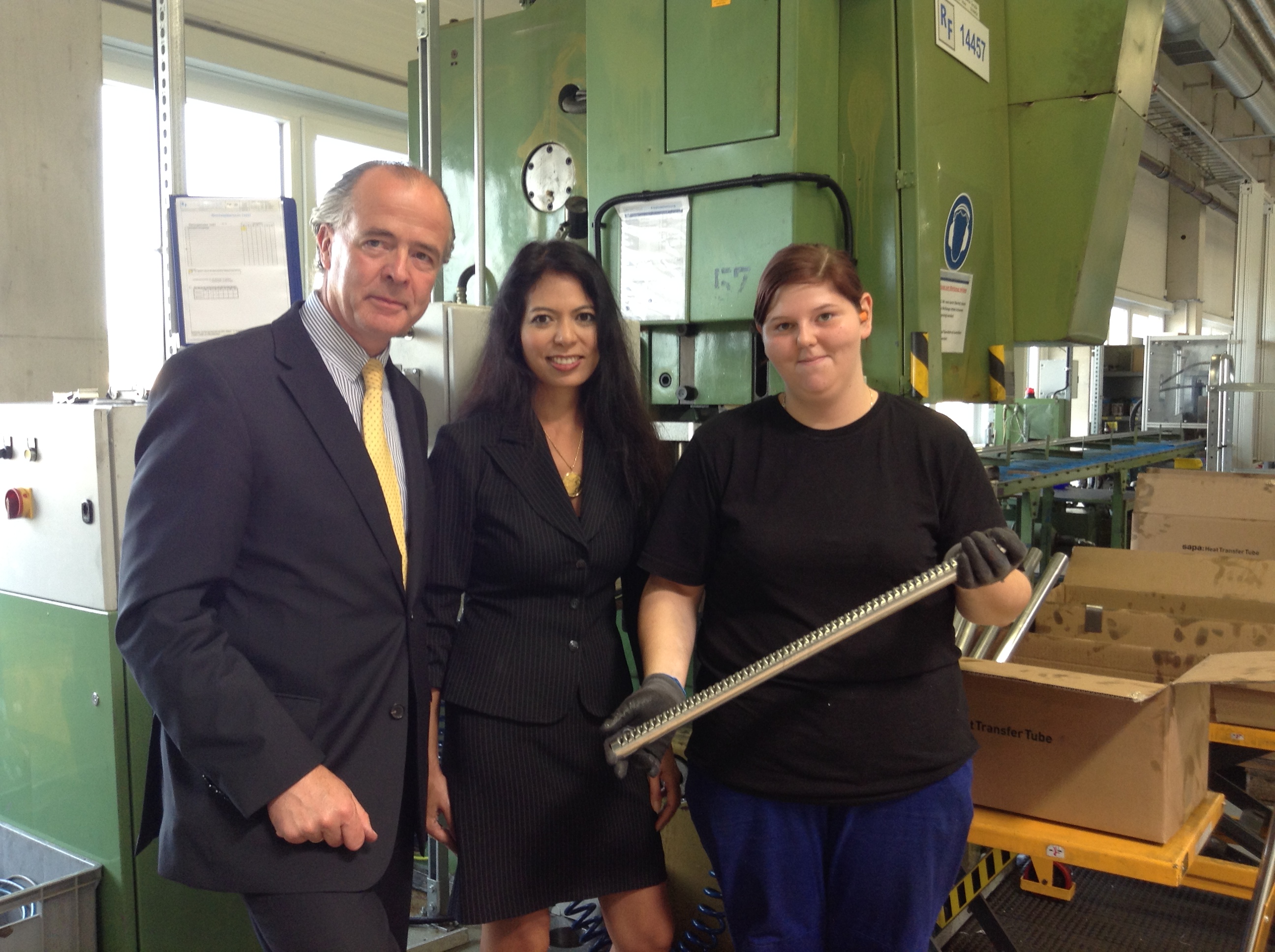 L to R: Fertinger CEO Veit Schmid-Schmidfelsen, USTR's Christina Sevilla, and Fertinger manufacturing worker Katharina Scherlak
With the assistance of the U.S. Embassy in Vienna, I also visited Fertinger company, a small and medium business with 200 employees manufacturing air conditioning components.   CEO Veit Schmid-Schmidfelsen expects the T-TIP will expand business with the United States and is opening a facility in Auburn, Alabama starting next year, beginning with 10 employees including workers and engineers.  He also expects to collaborate with the local university to establish training and apprenticeship programs for workers.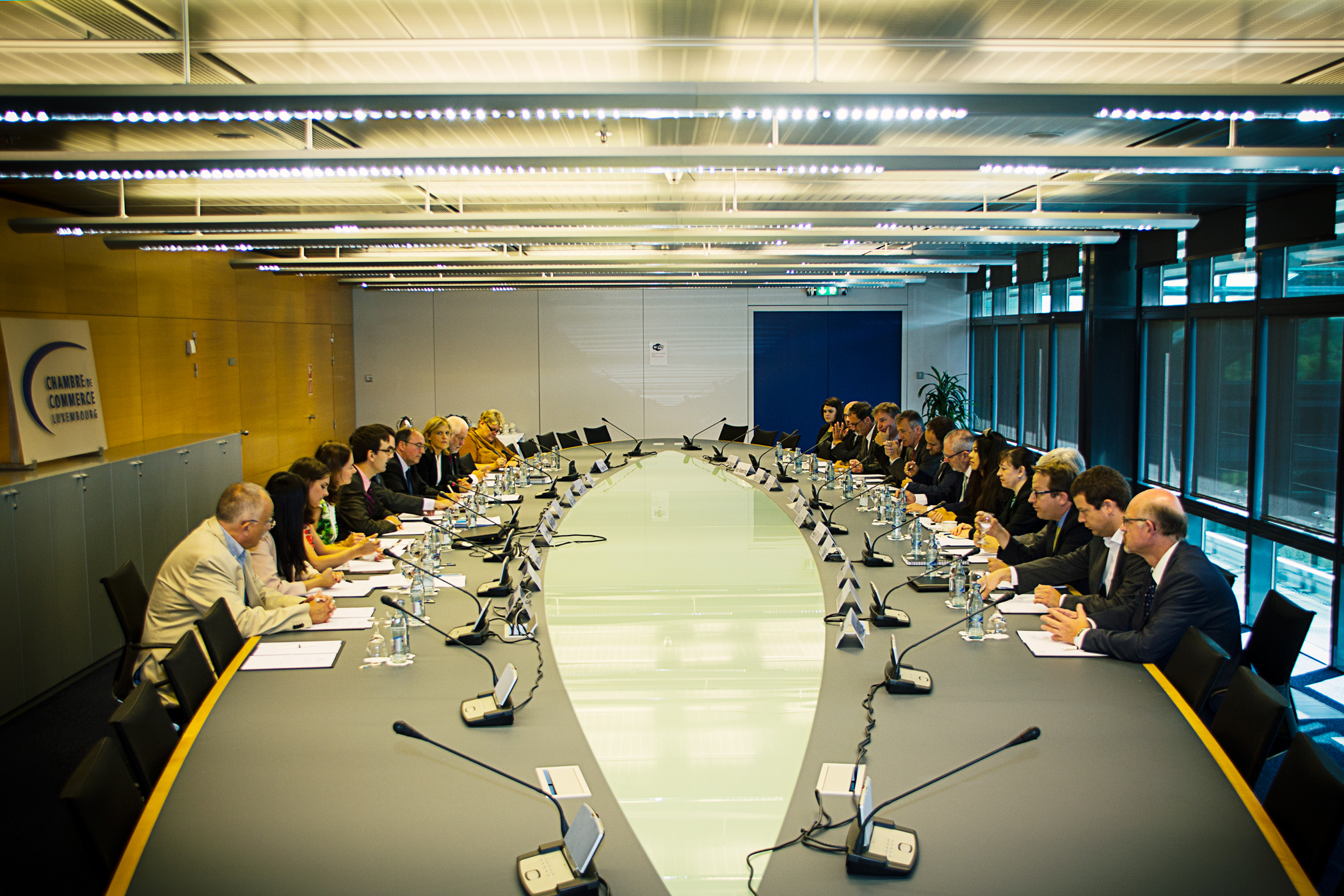 L to R: USTR's Christina Sevilla, U.S. Ambassador to Luxembourg Robert Mandell, and U.S. Embassy Luxembourg's Heidi-Hakone Jovanovic at the Luxembourg Chamber of Commerce
In Luxembourg, U.S. Ambassador Robert Mandell and I met with small and medium businesses and industry associations at the Luxembourg Chamber of Commerce.   Small Luxembourg companies such as Rotarex, a family-owned company manufacturing industrial valves and fittings, has a subsidiary in Mount Pleasant, Pennsylvania employing 30 workers.
T-TIP will reduce trade barriers which can be especially costly to smaller firms, and expand opportunities for U.S. –EU trade and investment in order to help sustain and grow high-wage jobs on both sides.
To learn more about the Transatlantic Trade and Investment Partnership, please visit www.ustr.gov/ttip.
For more information on the benefits of T-TIP on small- and medium-sized enterprises, please click here.