In this week's Roar, we bring you counter-intuitive news on cargo volumes at the Ningbo-Zhoushan port, sorting out the fees at LA-LB, 2022 expectations from BREXIT, peaking demand on global supply chains, and upward pressures on air rates.
But first, a constant for the industry has been dealing with labor shortages. Here is a short video from WSJ.com that you might find insightful. Click on the chart below to view it.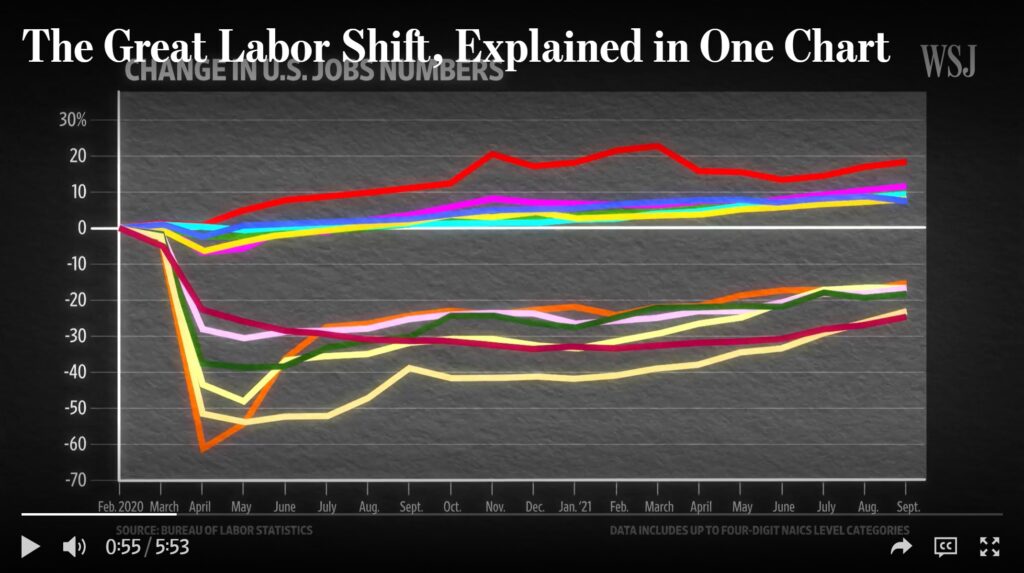 The increasing COVID-19 cases in the Belin district of Ningbo which has caused heightened restrictions and lockdowns may also disrupt production in the area. However, overall cargo volume in Ningbo-Zhoushan port, the largest in the world, is yet to drop. This is a fluid situation that all importers should be watching closely.
No one can be blamed for being confused by all the fee announcements coming from the LA-LB ports. This is an issue recognized by the ports and terminal operators. Based on this JOC article, however, you also cannot be blamed for thinking nothing will be resolved anytime soon.
In one of the few meaningful supply chain topics that pre-dates the pandemic (a.k.a BREXIT),  value-added tax VAT and customs duty compliance obligations have changed for many businesses. Organizations are hoping for stability in 2022 while also anticipating further changes that will ease import and export trade.
There is a new way for markets to quantify the supply chain pain. According to the New York Federal Reserve, global supply chain pressures, which have been the major cause of disruptions and lead to inflations, may have finally peaked. From CNBC.com, "The model shows global supply pressures are about 4.5 standard deviations above normal — an extreme level not seen at any point since 1997."
The lack of progress by the air cargo industry was a topic of a recent Logistics Myth Busters post (The Logistics Myth Busters Take to the Air). Presently, air cargo supply chains are dealing with reduced passenger jet capacity and congestion due to a labor shortage, and air rates are feeling more upward pressure. Brendan Sullivan, Global Head of Cargo for The International Air Transport Association (IATA), suggests sustainable aviation fuel, and modernization, and digitalization as possible ways to further mitigate the capacity crisis.
Compliments of Jaguar Freight – a member of the EACCNY.